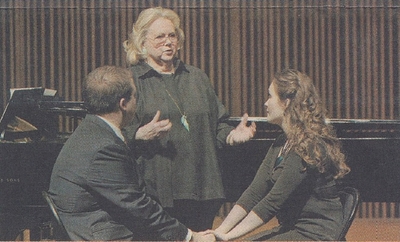 New York. "It's about communication," Barbara Cook said in late November, anticipating her next master class at The Juilliard School. "I specifically ask the students to bring in songs they connect with emotionally. But then they hide. They bring in singy stuff, operetta stuff, stuff with jokes. But of course, they don't know they're hiding."
Barbara Cook sings pop. She made her name in what is now often called Broadway's Golden Age of a half-century ago as the original Marion the Librarian of "The Music Man" and as Cunegonde in "Candide," tossing off "Glitter and Be Gay" eight shows a week. But such is her standing as an interpreter of songs that Juilliard calls her in as often as her busy schedule allows for a two-hour master class with students from the classically oriented Vocal Arts Program. For Ms. Cook, they sing Gershwin, Sondheim, Vernon Duke.
She's not available often. Around the world, her career continues to flourish in venues as intimate as the Café Carlyle or as vast as Carnegie Hall. People who have followed her for years claim credibly that her performances these days are as fresh as ever but even richer. Just now, she is preparing her Metropolitan Opera solo concert debut for Jan. 20. Other pop stars have rented this august stage for such concerts, but only one before Ms .Cook was presented by the Met itself. That was Yves Montand, in 1982.Tickets are moving briskly.
On Dec. 1, Joseph W. Polisi, Juilliard's president, welcomed a celebrity-studded crowd of fans with a rhetorical question: "What better way to usher in
December than with the sunshine of Barbara Cook?" The sunshine, he went on to specify, was a metaphor not only for her silvery soprano, still untarnished in her 78th year, but for her warmth, generosity, humanity—qualities her art possesses in abundance, minus the sentimentality that can spoil them.
In she came, a heavy-set blonde all in black, her hair swept back in a softly curling wave, with gigantic round spectacles and the expression of an inquisitive cherub on her round, unlined face. As usual, she notified the audience up front that the class would in no sense constitute a performance. And she went through some familiar history of her early days on Broadway. Back then, every audition started her worrying that everyone else up for her part was prettier than she was and sang better than she I did—until she reached the blinding realization: "There's only one of me. If I can be myself, there's no competition."
There's a practical point to her inspirational flights, but Ms. Cook is also quick to call herself back to earth. "Kind of icky talk," she scoffed then, without apology. It was time for the first of that day's six charges. Veterans of previous Cook master classes recognized the drill. She praised students' voices in passing, and moved on.
To put them in touch with the lyrics, she had them speak the words to specific randomly chosen individuals in the audience. To get them out of "performance stance," she sat them down in a chair. She called them "Darlin'," kissed them on the forehead, and told them she knew what she was asking for was hard. But sunshine? Ha! Ms. Cook came on with pistols blazing, demolishing defenses. There was no place to hide. Never before had she delivered her message with such impatience.
No sooner had Student No.1 concluded Stephen Flaherty and Lynn Ahrens's embarrassing "Cuddles Mary Gave" (from "A Man of No Importance") than she opened fire: "You're using a kind of stilted speech that really puts me off. As singers We feel we have to perform. And that's what I want you not to do. Talk while you're singing. Everything needs to be backed up by emotional truth. I want to see you thinking. Seeing the thought—that's very compelling. What I want is for you to sound like an American. An untrained American. Just say the words."
Countless later comments were in a similar vein: "It's not a bad idea to think of a lyric as dialogue," Ms. Cook suggested. Having asked a student not to "sing," she stopped herself: "I'm sending mixed signals here. Of course you have to sing. But it's not about the notes. The song doesn't live on the page! It's your life. If you're not willing to fulfill what a song is telling you, do another song. Put in your memories, your joys, your pain—all that stuff . Risk death. Otherwise, you're not doing the job." Stuff: all the things that create intimate personal associations. It's a code word of hers.
Ms. Cook urged students always to make strong interpretive choices, then clued them in to an alarming truth: "Strong choices are always sexual. Almost always. When you say 'If I could share my life with you,' we're talking about sex. It means, 'If I could get you back into bed, life would be a whole lot better.' Think very specific things. No one will know what they are."
Do not, however, fake it. When Student No. 5, flashed a smile in Ira and George Gershwin's obscure, Ravel-scented "In the Mandarin's Orchid Garden:' (from "Ming Toy"), Ms. Cook let her have it. "What was that smile for? It was supposed to show that you're charming. It's phony! You're already beautiful and charming. Don't try to act beautiful and charming! It's redundant. Why gild the lily? It works against you. We see you playing us, and we don't like it."
For the first time in a Barbara Cook master class, there were tears, and No .5 quickly excused herself to find a Kleenex backstage. But she returned in a heartbeat, without coaxing, and tried her song again in the same tones of pure crystal as before, tinged this time with a haunting fragility. Like Glinda, Ms. Cook bestowed the reassuring kiss of benediction on her the forehead. And when Student No.6, a cavernous basso, stopped orating and started singing the way he talks, Ms. Cook gave due credit. "First we saw a singing machine," she said along the way. "Now we see a real person with thoughts and feelings. Believe me, I know how hard it is to break the habits they beat into you. But I think I'm right." (No. 6's piece was Edward Heyman and Victor Young's "When I Fall in Love," from "One Minute to Zero," the one song Ms. Cook praised as "a good choice.")
After No. 6 left the stage, Ms. Cook took questions from the floor. Someone wanted to know how long it had taken her to assimilate the lessons she teaches now.
"There's a new DVD out there on VAI of things I did liveon TVon the Bell Telephone Hour in the early '60s,"she answered. "And to tell the truth, when I watched it, I was amazed at all the stuff I put in it that people didn't and don't. I feel like I've discovered a wonderful new singer."
It might have sounded like rank conceit. Then she laughed an Olympian laugh from the heart, and it didn't . Take a look at that DVD, and it may amaze you, too.
That sweet-faced slip of a thing in the '60s hairdos sounds just like Barbara Cook.
"Sing!" a tiny voice piped up from the house, setting off riotous applause. And as she does on these occasions, Ms. Cook obliged with one selection. This time, it was "A Wonderful Guy" from "South Pacific": a much trickier emotional proposition than you might remember. As only she can, Ms. Cook jumped right in and showed her stuff.
It seemed so easy.