His demeanor is unassuming, but his hands are Mephistophelean: long, gaunt, electric. His frame is lithe, like a dancer's, and the elasticity of his movements shows gracefully in the long Nehru coat he chose for his 11 a.m. debut concert at the Salzburg Festival yesterday. On the podium he seems far taller than he is.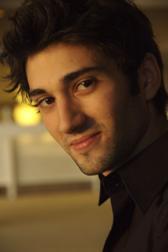 David Afkham, 27, is the first winner of the purportedly noncompetitive Nestlé and Salzburg Festival Young Conductors Award, open to applicants from 21 to 35 years of age. By the November 2010 deadline, no fewer than 81 rising maestros had been heard from, among them 16 women. Skeptical as I was and remain about the agenda and the selection process,there is no denying that this first time out the blue-ribbon jury has done an exemplary job.
Not that they have unearthed a total unknown. A German-born Parsi, Afkham has paid dues as a conducting fellow and assistant conductor with leading orchestras in London, Chicago, and Los Angeles­­—as well as with the Gustav Mahler Youth Orchestra, the ensemble preselected by the festival for the winner's Salzburg sendoff. His calendar of future engagements in Chicago, Amsterdam, Paris, Lisbon, Salzburg, and elsewhere is that of a rising star.
Not everything went perfectly. György Ligeti's "Atmosphères," which opened the program, is meant to end with lightly brushed piano strings fading into silence. A plane passing over the colossal Felsenreitschule wrought havoc with that, whining painfully through a thin roof that is soon to be replaced. But the preceding nine minutes had been captivating indeed: frozen modernist star shine, punctuated by quietly tectonic shifts in density, depth, and texture.
Next up was Ludwig van Beethoven's Piano Concerto No. 3 in C minor, with Till Fellner as the soloist. The hard, glassy Steinway he played was far from best in class, yet the reading was captivating first to last, thanks most of all to large-scale orchestral forces that delivered the transparency and lift one hopes for in a chamber-scale period band. After intermission came Dmitri Shostakovich's cryptic, crushing Symphony No. 10, the composer's by no means celebratory response to the death of Stalin. Here, Afkham unlocked another sound world entirely, with winds that keened and strings that rasped and bit, even if the recessive, well-mannered brass section was something of a disappointment. At the conclusion, the orchestra gave him a stamping ovation.
Before everyone cleared the scenic stage of the Felsenreitschule, a committee of luminaries came on to bestow the trophy. (It takes the form of a metal whisk mounted on a square base, suggesting a baton in motion; in addition, there is prize money of €15,000.) As chairman of the jury, the eminent mid-career maestro Franz Welser-Möst summed up his junior colleague's talents most memorably in a quip. In an age when so many young maestros conduct the audience, Welser-Möst said, Afkham still conducts the orchestra. Peter Brabeck-Letmathe, chairman of the board of directors of Nestlé S.A., added a few words about Afkham's gift for uniting the players in a common purpose. Here he was echoing a leitmotif of a high-powered round table on creativity and leadership held in Salzburg the day before. As Brabeck's fellow panelists—among them Pascal Lamy, director-general of the World Trade Organization; Walter B. Kielholz, chairman of the board of the reinsurance behemoth Swiss Re; Petra Roth, mayor of Frankfurt; Markus Hinterhäuser, director of concerts at the Salzburg Festival; and the thirty-something Canadian conductor Yannick Nézet-Séguin, a recent Salzburg discovery—kept saying in their own words, the key to leadership is the consent of the governed. ("That's the message I took away," Brabeck said at a reception later on.)
The scene seemed to cry out for an acceptance speech, but Afkham merely nodded deferentially and glowed. He found his tongue at cocktails later on, when a well-wishing Chinese journalist came up to express how struck she had been by his passion on the podium. It's not just passion, he politely insisted. Equally important are discipline and mental preparation. His father, a physician born in Bombay, acknowledged a private word of congratulation by saying that as a father, he often had tears in his eyes. (A student of the violin though no professional musician, Dr. Afkham has raised a very musical brood, as evidenced by the family website, http://www.afkham.de/index.html.)
On a short walk to a festive lunch with the orchestra, Afkham took questions about the music.
So often, when orchestras drop the volume, they don't just lose decibels, but also color, intensity, and expression. A lot of the Ligeti is on the edge of silence, yet the kaleidoscopic qualities of the sound remained. Is that something you worked on particularly?
Maybe that comes from my beloved mentor Bernard Haitink. I like to develop the sound from piano, not to start at forte and drop down from there.
In the Beethoven, what struck me especially was how much music you brought out of the simplest accompaniment figures and fragments. It gave such clarity to the harmonic and rhythmic development.
I'm so happy to hear that. That's exactly what I want to achieve. I'm glad that it's coming across. But also, I felt so much in accord with the pianist.
You're a prize-winning pianist yourself, so I wonder: Would you have played the piano solo in a similar way? To my ears, Till Fellner's attack was very dry, and he seemed less concerned with a singing legato line than with creating a "granular," staccato texture. This seemed to me in marked contrast to the playing of the orchestra.
What I always look for in Beethoven is a sound that is noble. Even when the music is energetic and revolutionary, I feel that his humanism and his philosophy require that quality. You have to walk a very fine line.
The Shostakovich is such a monumental, expansive piece, and I imagine quite a frightening one to play. What made you choose it for this concert?
I've been studying Shostakovich for a long time, and I feel very close to his music. Conducting isn't just a matter of baton technique and logistics. It's about content and expression—about the messages you transmit. Learning a score is a process that takes a great deal of time. You need to absorb the history and the background. This symphony is a response to the death of Stalin. In it, Shostakovich quotes the character of Pimen, the monk in Boris Godunov, who confronts the czar about the spiritual crisis of Russia. When you know where the music comes from and what it means, you'll play it in a different way. It's not that I want to push the symphony in the direction of program music. It's a piece of absolute music, the same as the Beethoven piano concerto we played today. In that sense, I don't want to "tell a story." But in the music you have to feel the dialogue between the heart and the head. When you first get to know a piece, you feel something—that's from your heart. Then you analyze it, and for that you use your head. But what counts in the end is the heart, which has changed through the work the head has done. That's why I feel I have to tell people that what drives me isn't just passion. It's discipline. It's reflection.
On a worldly note, who designed your outfit? It seems ingeniously unconventional yet impeccably correct and classical.
A woman I know is a designer, and she came up with a variety of clothes for me. I couldn't wear tails at 11 in the morning, and I don't feel comfortable conducting in a suit. The suit you saw feels wonderful. It lets me move very freely.
* * *
We had reached the historic Peterskeller. Upstairs, at the end of a maze of corridors, in a high-ceilinged baroque dining room bright with daylight gently filtered through stained-glass windows, the instrumentalists of the Gustav Mahler Youth Orchestra awaited, spirits soaring. For his final public entrance of the day, Afkham crossed the threshold to cheers and chanting. And here, once pandemonium died down, he did speak to the room. "Thank you," he said. "I love you." Then, sitting down at the head table with family and friends, he requested a beer.
For an official description of the Nestlé and Salzburg Festival Young Conductors Award, visit http://www.salzburgerfestspiele.at/nestle_yca/