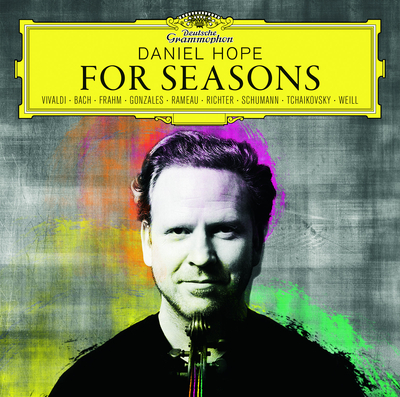 Dropping a U and adding value in spades, our latter day Paganini Daniel Hope has released For Seasons, which proceeds from eponymous Vivaldi to a potpourri of tracks pegged to the twelve months of the year (Deutsche Grammophon 4796922). Mindful of flash flooding up and down our island chain, we led with the seraphic Largo from Vivaldi's "Winter" concerto, superscribed "La pioggia," or Rain. Seconded by the Zurich Chamber Orchestra, Hope moves at a brisk clip, injecting deviltry by way of wiry tone and a wicked touch of glissando. For an encore, we had Kurt Weill's "September Song," familiar from the timeless rendition of the composer's wife and muse Lotte Lenya. The Who's Who of distinctive artists who have done covers runs from James Brown, Rosemary Clooney, Bing Crosby, and Ella Fitzgerald to Eartha Kitt, Mario Lanza, Lou Reed, and Frank Sinatra, not to mention the inimitable Jimmy Durante in a gravel pit of his very own. A singer, of course, has Maxwell Anderson's worldly yet sentimental lyric to set the mood, but many an instrumentalist has traveled this road, too. In Paul Bateman's arrangement, with Jacques Ammon at the keyboard, Hope distills every last atom of golden autumnal sweetness from melody alone.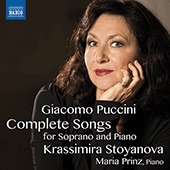 As Giacomo Puccini was the first to admit, his destiny lay in opera: "Almighty God touched me with his little finger and said: 'Write for the theatre—mind, only for the theatre!'" If occasionally he strayed, who among us will cast the first stone? His brief, restless, melancholy string quartet Crisantemi (Chrysanthemums)—in a single movement—deserves a hearing now and then. So, do his Complete Songs for Soprano and Piano, 19 in number, total running time 45 minutes, newly recorded by the Bulgarian duo Krassimira Stoyanova and Maria Prinz (Naxos 8.573501).
At five minutes, his "little love story" "Storiella d'amore" is the magnum opus of the bunch. Like Dante's Paolo and Francesca, buffeted through the Inferno on gusts of adulterous passion, the prosaic contemporary lady and gentleman in question here have innocently gotten together to read romances and fallen into temptation. The verse is by Antonio Ghislanzoni, Verdi's librettist on Aida. A wink and a smile, not gale-force heroics, are the ticket here, and Stoyanova, on every operatic impresario's A-list, delivers with ease. Still, the focus, gleam, and edge of her sound leave no doubt what sort of music is her bread and butter.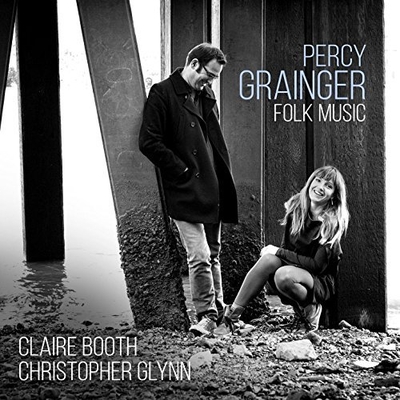 Percy Grainger: Folk Music(Avie AV 2372) serves up ballads from the British Isles in early-20th-century arrangements. Homespun artlessness meets discreet sophistication! Sounds wonderful, right? Previously unknown to me, the soprano Claire Booth and the pianist Christopher Glynn scored big-time with my host-sponsor Paul Janes-Brown. I found both the Gothic "Six Dukes Went Afishin'" and the wistful "Early One Morning" arty and as dead in the water as the seventh duke discovered by the first six.
Stars get to break rules. Gustav Mahler's hour-long symphonic song cycle Das Lied von der Erde ("The Song of the Earth") calls for two soloists: a tenor, the brasher the better, in the three odd-numbered songs, and an alto for the soulful reflections of the three others. A parenthetical on the title page of the score authorizes a baritone to replace the alto, but few have done so. Now, in an unprecedented move, Jonas Kaufmann, arguably the reigning tenor of the moment, has taken on the whole set (Sony Classical 88985389532). Even with baritone royalty on hand—Dietrich Fischer-Dieskau, Thomas Hampson, or Christoph Gerhaher, say—some will complain that two alternating male voices produce aspectrum of vocal colors that is simply too narrow, an assessment not to be dismissed out of hand. So wouldn't the writing be on the wall for Kaufmann, at an inherent disadvantage in all the music that lies too low, and no foil but himself for variety?
The Chinese texts of Das Lied von der Erde--Mahler's adaptation of a translation of a translation--derive from the so-called literati tradition, which placed calligraphy, illustration, meaning, and expression on an equal footing. In the third and fourth songs, on themes of youth and beauty, Kaufmann displayed a singular gift for pictorial details I had never before actually visualized. This time, in my mind's eye, I could see the glistening sleeves of friends gathered in their dainty porcelain gazebo, the flowers the young girls pick by the banks of a river, the spray of water kicked up as boys on horseback chase by... Irresistible, really. The instrumental detail was visual in much the same way, perhaps at the expense of a "philosophical" patina many maestros like to hear in this great ode to impermanence.
Coming up on the top of the hour with a few minutes to spare, we circled back for an extra track from Stoyanova's Puccini: a setting of the processional "Vexilla Regis prodeunt" ("Abroad the regal banners fly"). Dante—Dante again!—parodies this most iconic of medieval Latin hymns in the Inferno; Puccini plays it straight. His version, penned for a church in the fashionable Tuscan hills outside his native Lucca, is for two voices, accompanied by organ. Through the miracle of overdubbing, Stoyanova gets to pull a Kaufmann here, joining herself in rapturous two-part harmony. No narrative is implied, yet the festivity and sense of place evoke a scene in some unwritten opera.
Signing off, I left Paul to spin the all-important finale of Kaufmann's Lied von der Erde, "Der Abschied" (Farewell). This movement, which by itself runs as long as the first five put together, makes what may be the strongest argument for a male interpreter, for the "I" of the text is a man. That said, the cognitive dissonance when a woman voices his outpouring of existential longing is nonexistent.
As even the finest baritones tend to do in this material, Kaufmann left something to be desired in the way of vocal luster. Much of the time, though on pitch, he seemed rather to be murmuring private thoughts to himself than flying free on wings of thought. The notion of "extended speech" came to mind—a phrase voice teachers have used to explain that proper singing is grounded in proper speech. But isn't that reductive? Why not emphasize instead the idea of extension, meaning that the purpose of song—of music—is to reach beyond talk? Way beyond, and on vectors of affect, of intimacy, of sensuality, we may not even be able to count?
Yes, the evident technical adjustments were a distraction here and there. No, this Lied von der Erde sets no standard by which all others must be measured. The experiment sets no precedent. Still, Kaufmann has a way of striking a chord that is his alone. And he does so here. Bitter yet vulnerable, his valedictory breaks the heart.