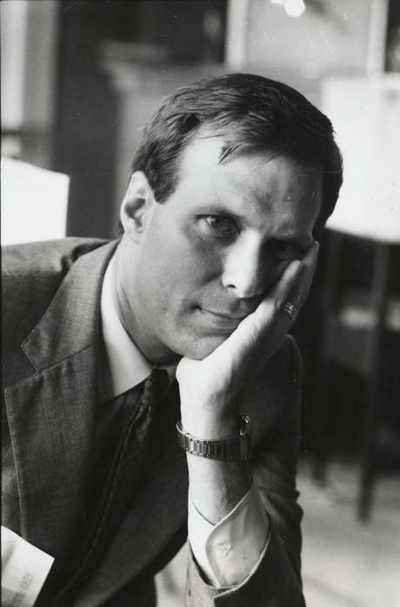 Galley years: David Gockley in 1986,
I couldn't say whether he collected a gold watch last month, but after 33 years as general manager of the Houston Grand Opera and ten more at the San Francisco Opera, with an astonishing 45 commissions to his credit, David Gockley certainly had one coming.
Having sized him up 15 years ago for the New York Times
, I'll spare myself (and you) a recap now, except to say that in the face of steadily escalating fiscal and cultural challenges, David fought the good fight to the last. Art was paramount, but he pitched a big tent, and he balanced the books. His final triad of productions, seen in rotation in June, typified his nose for the newsworthy, his eye for a bargain, and his taste for adventurous casting.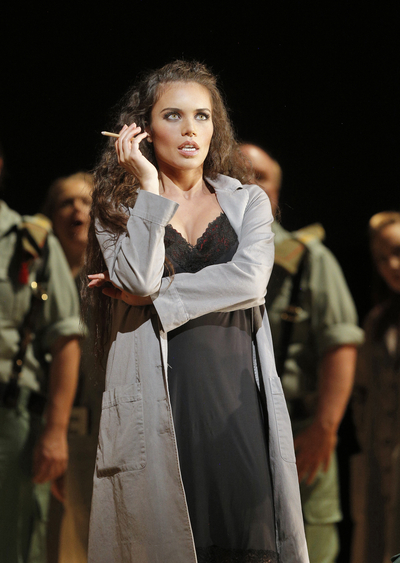 Circe, cigarière: Ginger Costa-Jackson's Carmen is the real thing.©Cory Weaver/San Francisco Opera
With Bizet's
Carmen
, San Francisco gave the scandalous Catalán director Calixto Bieito his first American airing as an opera director: incontestably a coup of sorts, though the show has been kicking around since 1999 and the reboot was the work of an assistant. With its brutish sex in the shadows, gangland violence front and center, and updates that felt passé (a telephone booth, six Mercedes Benzes, the "legendary"
Osborne bull
), the production falls squarely into the bucket of what many will call Eurotrash.
To me, apart from shameless scene-stealing by a crackerjack children's chorus and the Circean flamenco sensuality of Ginger Costa-Jackson, second-cast as the willful gypsy—this was flatline opera, unrelieved by the least flicker of truth, beauty, or entertainment value. I say this but must add that I had a guest along whose response was very different: Antara Bhardwaj, an Indian-American who dances kathak and tells the associated stories the way Cecilia Bartoli sings Rossini. Antara had never seen an opera before; in prospect, the historic prestige of the genre intrigued and intimidated her. Yet she connected instantly, sensing the power of tradition as a vehicle for gritty realities of life today. In the classic, endangered art she practices, Antara seeks the same sort of fusion. It's a question of conviction, as well as of survival.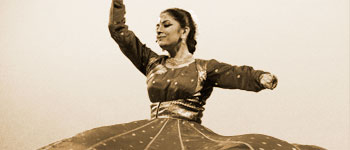 Dancing kathak the way Bartoli sings Rossini: Antara Bhardwaj.
What would Antara have had to say, I wonder, of Jenůfa, Janáček's tragedy of infanticide in a Moravian village? Metropolitan Opera audiences will remember Olivier Tambosi's uncluttered, transparently symbolist staging as a vehicle for Karita Mattila, incandescent in the title role of the unwed mother. This time, the same production showcased Mattila's stage debut as Jenůfa's pharisaical mother-in-law, known as the Kostelnička, who secretly does away with the baby. Over-the-hill sopranos have been known to scream and chew the scenery in pursuit of extreme expressionism. Instead, Mattila projected clarion authority in tones that were fresh and clear, unpacking, in all her wrenching contradictions, a character forced to play for the highest stakes with the weakest of hands. In Malin Byström, Mattila's Jenůfa found a luminous successor. For all involved, and notably the orchestra, under the expert baton of Jiří Bělohlávek, this was a triumph.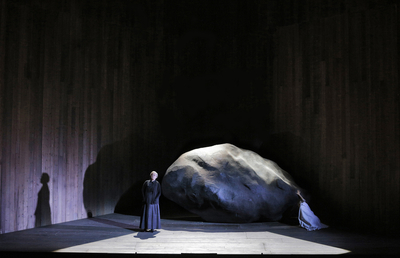 Jenůfa transformed: Karitta Mattila as the Kostelnička.©Cory Weaver/San Francisco Opera
The playbill for the revival of Verdi's Don Carlo promised another, but June 18, when I attended, seems to have been an off night. At the podium, Nicola Luisotti cultivated the thick, ponderous textures of the score to the exclusion of its transparencies and brilliance, disadvantaging the cast further with relentlessly dragging tempi. Elisabeth's music wants more grandeur than Ana María Martínez could deploy under these conditions. As Eboli, Nadia Krasteva had flamboyance to burn without the countervailing finesse. As Rodrigo, the stylish Mariusz Kwiecien sacrificed line to volume. As Philip II, a signature role of his for a quarter century, René Pape came through with the Golden Age excellence he has taught us to expect.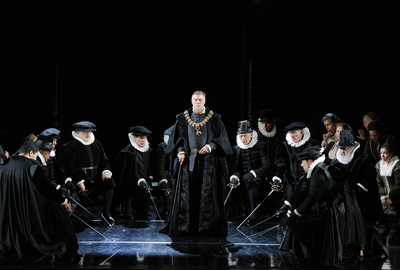 Absolute authority: René Pape's Philip II, a quarter century into his reign.©Cory Weaver/San Francisco Opera
And what of Michael Fabiano, cast for the first time as the crown prince? I was hoping he would kill it, and before long, I expect he will. For now, a prosaic entrance lost him crucial points. Thereafter his vivid timbre and phrasing started working their magic. Already, Fabiano was making more sense of the role's sharp mood swings that any tenor in my experience except Rolando Villazón in his heyday, and certainly his climactic faceoff with the king at the auto-da-fé struck scorching sparks. The next day, we met to discuss the inherent challenges of Don Carlo, the opera that bears his name, and related matters. For a report, see the stand-alone post,
"Don Carlo on the Couch."