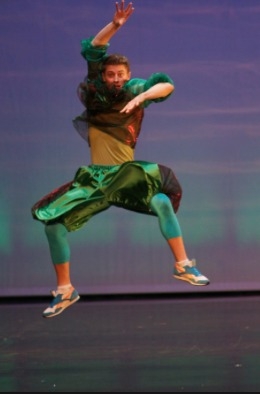 Stand by for lift-off: Orliński in the archives of Fryderyk Chopin University of Music, Warsaw.
Keeping Jakub Józef Orliński under wraps is not easy. He had yet to complete his studies at the Fryderyk Chopin University of Music in Warsaw when Theater Aachen, across the German border, tapped him for the bravura part of the amorous knight errant Ruggiero in Handel's Alcina. That was two years ago. For a hint of what happened next, check YouTube for the teaser, dominated by the budding countertenor's plumed, half-dressed rock-star likeness, monopolized by the sound of his amber countertenor.
Today Orliński's pursuit of excellence continues at the Juilliard School, where, at age 25, he has just capped his first year with breakout performances as the moonstruck Endimione of Cavalli's La Calisto (February 17-21) and in the annual Vocal Arts Honors Recital at Alice Tully (March 21). In between, for good measure, he took a top prize at the National Council Auditions, carried live around the world from the stage of the Metropolitan Opera, on March 13. All this with one more full year to go until graduation.
But what, I wondered, is an artist already in demand doing back in school? "Ruggiero in Aachen was an amazing experience," Orliński told me after a full schedule of classes the day after his recital, looking studious in Clark Kent glasses. "But the offers I was getting were from B-type houses. I knew I could do better."
Not that the quest ever ends. In a Juilliard master class, the visiting mezzo-soprano Joyce DiDonato, pressed Orliński to think beyond instrumental, note-for-note accuracy for the higher poetry of a fully integrated legato line. She set him to dancing to make her point, and he responded eagerly. But there's more to it than flipping a switch.
"I know there's still a lot for me to correct," Orliński says. "I'm really enjoying working with my Juilliard teachers, and I'm moving really fast. People I sing for every month or so tell me that they can hear improvement each time. So the hours and hours of practice every day are really paying off. Coloratura never came easy for me. It took me almost a year to learn my first Handel aria. All those annoying exercises to learn to sing trills, to build volume! You have to be patient. The second aria was much easier! But I'm addicted to practice. I love to get to the point that I can do what I couldn't do before."
*
Born into a family of architects, graphic designers, and painters, young Jakub gave the visual arts his best shot for three years of high school, with dismal results. "I was terrible," he says. "Everybody just laughed." Fortunately, there was music to fall back on.
As a boy chorister, he had sung soprano and alto. When his voice changed, he switched to a men's ensemble, with mixed emotions. "My baritone voice," he explains, "doesn't have the same joy and happiness." So when his fellows, newly aflame for baroque music, started looking for trebles, he immediately raised his hand. "I sang high, falsetto," he says, "reflecting what I feel."
And at university, he crossed one more frontier. "In the chorus, it's hard to express all that's inside you," he says. "So I quit the ensemble and really started thinking solo. As a soloist, you can do everything you want. Everything depends on you."
Opera bored him at first. "I thought opera was just for divas," Orliński says. And for divas he has no use. "There are lots of good singers out there," he explains. "If you think you're king of the world and start treating people badly or one way today and another way tomorrow, there are a dozen better colleagues in line to replace you."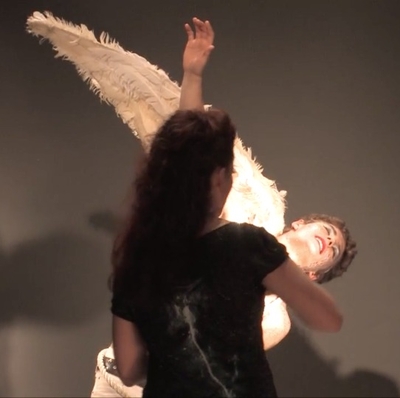 In the realm of the senses: a screen capture from the Alcina teaser, Theater Aachen, 2014.
These days, Orliński dreams of playing the heroes of Handel's Giulio Cesare, Rinaldo, and Riccardo Primo; surely, he will also be fielding offers for Monteverdi's landmark Orfeo and Incoronazione di Poppea, not to mention the rarefied Vivaldi repertoire.
"I'm a pretty religious person, so I'm also attracted to oratorio, for the religious experience. And I love doing concerts with a chamber ensemble. And recitals, which are the most difficult. In opera, you're the same character all night, so you can hide a lot. In recital, you have to show all you are as an artist, even if you're all done in an hour. Thank heaven for my pianist Michał Biel and his beautiful partnering! He gives me energy."
*
Orliński's appearance before a cheering crowd at Tully Hall on March 21 opened and closed with fireworks, in stinging Italian, from operas of Handel—just the ticket for a virtuoso intent on presenting his baroque bona fides. In "A dispetto d'un cor ingrato," from Tamerlano, the deluxe quality of his instrument shone forth from his first attack, the timbre flaring with dusky brilliance at the top, shading smoothly to feral colorations below. His agility put him in a class with the masters. Yet more arresting than the mechanics were the spontaneity and magnetism of expression, never telegraphed but always mirrored in his lively, pointed theatrical mask of a face. A trio of Purcell songs, in English, revealed the artist in a more meditative mood, especially bewitching in "Strike the Viol," eyes aglitter with a secret delight too delicious not to share. The superstar Cecilia Bartoli gave off such sparks when she burst on the scene a quarter century ago, and she still does. (It's not something you learn in school.)
Music of Orliński's native Poland followed. In folk-inspired vignettes from Szymanowski's 12 Kurpian Songs, the tang and sensuality recalled the earthy power of the women's ensemble in vogue worldwide a quarter century ago as Le Mystère des Voix Bulgares. Next up, "Jesień" (Autumn), by Pawel Lukaszekski, a composer Orliński knew in Warsaw, calls on the performers to improvise. Orliński took up the challenge with discretion as well as imagination. So, at the keyboard, did Michał Biel, his ever-attentive Juilliard roommate and countryman, tracing the lonely landscape in concise, calligraphic strokes.
Despite the tumult after the concluding Handelian excursion ("Furibondo spira il vento," from Partenope), Orliński exited for intermission without the nicety of an encore. That came later—after a second half showcasing his fellow student, the tenor Miles Mykkanen and his pianist Ho Jae Lee. In music of Britten, Schumann, and Grieg, Mykkanen impressed as a deeply serious, not to say earnest, young artist, his persona as retro (in a good way) as his rock-solid technique. At recital's end, the honorees joined forces for Rossini's "Duetto buffo di due gatti," sung all in meows, beloved of friendly-rival sopranos and mezzos. In a likely all-time first, our prospective Siegmund and Orlando took the ingenious double portrait of feline prima donnas and made it theirs. At the tail end of his strait-laced program, Mykkanen scored points here just for cracking a smile, parried by the mercurial Orliński's raucous, interrogatory purr.
*
Yes, here is a young man full of surprises, of which the final paragraph of his bio for the Met's National Council Auditions listed several more. "In his spare time," it began, "Mr. Orliński enjoys breakdancing," going on to enumerate a fourth prize and two seconds in far-flung international competitions, not to mention his work as a model and acrobat in print and electronic campaigns for the likes of Levi's, Nike, Samsung, and Mercedes-Benz.
"Break-dancing is great exercise for the body and for my mind," Orliński notes. "It gives me a little break from opera, from the classical world. I warm up with break-dancing moves every morning, before warming up my voice. But big power moves, like flips and windmills and spinning on your head can make you tight. So those are things I don't do before a big performance."
One thing he seems not to do in a big performance is wrench his head and neck around when the tempo goes crazy, a bad habit some of the most illustrious virtuosi fall prey to, much to some listeners' discomfiture. "I try not to move that way," Orliński says. "I want to move when I want to move, not because I have to. I want to be able to do whatever a stage director asks me to do, even if it includes a lot of difficult movement. Sometimes, for the vocal impulse, you need a physical impulse that turns into all those weird movements and faces, but I'm trying to control that. If I'm tired, I may have to move more."
*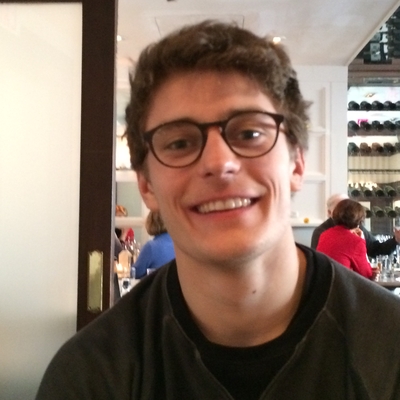 Back to school: Olbinski the day after his Tully recital.
As inspirations, influences, and role models, Orliński names, first of all, his teachers in Warsaw (Anna Radziejeswka, Eytan Pessen, Matthias Rexroth) and New York (Edith Wiens). And among fellow performers? In his pre-soloist days, the King's Singers, an all-male British a cappella sextet, were special favorites ("I was a crazy fan"). Among reigning countertenors, he singles out Philippe Jaroussky and Andreas Scholl, exemplars of a seraphic, instrumental style some fault as bloodless; the smoldering, sometimes febrile Max Emanuel Cenčić; and Bejun Mehta, at his phenomenal best to my ears at once the most magisterial and kaleidoscopic of them all.
Divas, to a man... Anyone beyond Orliński's own voice category? "Bartoli!" Nota bene: another diva. "It was because of Bartoli that I started to study coloratura," Orliński adds, beaming with admiration. "I was curious to discover how it was possible to sing the way she does. I had to figure it out."
Now that he has done so, it may be time to figure out how to reconcile himself to a certain honorific he cannot help regarding with deep distaste... After all, setting aside any delusions of grandeur and bad behavior backstage, what's the word that springs to mind for an artist in whom artistry, technique, personality, and charisma coalesce in a single blaze?
Orliński's eyes narrow behind the heavy frames of his spectacles. "Hm," he says after a while. "In Polish, diva is only negative."