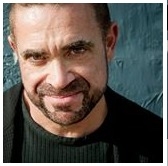 Anthony de Mare, Sondheim aficionado extraordinaire.
Miniatures require concentration, all the more when they emanate from many hands. Beginning in 2007, the pianist Anthony de Mare, proud champion of new music, has commissioned three-dozen encore-length tributes to Stephen Sondheim. The resulting candy box, released last week as
Liaisons on three generous CD's (ECM New Series, $37.98)
, opens with William Bolcom's whirling, contrapuntal "A Little Night Fughetta" (on the theme "Anyone Can Whistle"), followed by Nico Muhly's percussive "Color and Light" and mimimalist pioneer Steve Reich overdubbed 2-piano version of "Finishing the Hat"—a first indication of the imaginative range.
Few listeners, I wager, will recognize everyone in the lineup, but marquee names abound, including, in order of appearance, Duncan Sheik, Wynton Marsalis, Fred Hersch, Jake Heggie, Frederic Rzewski, John Musto, Mark-Anthony Turnage, Ricky Ian Gordon, Gabriel Kahane, Tania León, and Michael Daugherty.
Inevitably, certain personalities impose themselves more boldly than others; the pieces run the gamut from deferential transcription to bold Lisztian paraphrase. Along the way come surprises galore, in nearly as many idioms as there are composers. In length they range from one minute and forty-one seconds to nine minutes even. Some take their titles from the Sondheim songbook; some ring inventive changes ("Johanna in Space," "The Worst [Empanadas] in London").
Background music this is not. De Mare renders lyricism with a dreamy, even gossamer touch; in rambunctious numbers, he goes gorgeously bananas. Yet even the wildest inventions never obscure our octogenarian wunderkind of the American musical: in melodic gestures, in harmonies, in the metrics of his lyrics, he is there.
Isn't it rich? What De Mare hath wrought, with the help of his many collaborators, adds up a collective Goldberg Variations for Sondheim, or shall I say a Diabelli? An imperfect analogy, God knows, but never mind. I suspect De Mare will not be the last pianist to want to explore Liaisons in its exhilarating entirety. (For a schedule of live performances, click here.)