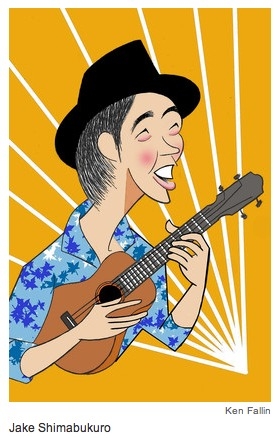 Maui, Hawaii.
Just about anyone can pick up the ukulele and make music in no time, but who ever goes beyond the basics? Historically, the lowly Portuguese-descended cousin of the guitar has served to accompany the vocals of aloha-spirited islanders or winking comics like Tiny Tim. Now the 36-year-old Honolulu native Jake Shimabukuro, who never sings, has reinvented Hawaii's two-octave "jumping flea" as a vehicle for bravura instrumentals. In recent concerts at the Maui Arts & Cultural Center, he bounced onstage grinning from ear to ear, brandished his Kamaka (a Strad among ukuleles), and launched without ado into playlists that ranged from Beethoven's "Für Elise" to Queen's "Bohemian Rhapsody" by way of "The Star-Spangled Banner" and a growing catalog of his own material.
Jazz and rock critics have likened Mr. Shimabukuro (shee-mah-boo-kuh-roh) to such icons as Miles Davis and Jimi Hendrix, comparisons now unfurled like Homeric boilerplate wherever his intercontinental tour schedule leads him. Credit power chords that cascade from the strings, sharp rhythmic patterns that ricochet off the uke's wooden body, fingers that fly faster than the eye can see. I flashed more on Niccolò Paganini—the violin wizard rumored in his time to be in league with the devil. Partly that could have been because in a television spot for Farmers Insurance Hawaii, Mr. Shimabukuro's ukulele was seen bursting into flame.
His mother taught him his first chords when he was 4. "After that," Mr. Shimabukuro said last week, "my ukulele never left my side." He was speaking from a gate at the San Francisco Airport, en route to a tour in his ancestral Japan, where he has been embraced as a native son. There were lessons at the respected Roy Sakuma Ukulele Studio, but in time he became his own teacher. "I played five or six hours every day, every chance I had, even while watching TV. In bed I would lie on my back practicing until I fell asleep."
Early on, Mr. Shimabukuro flirted with distortion pedals and other plugged-in paraphernalia, but not for long. "If I'm going to change the sound of the instrument," he decided, "I will do it with my hands." At the same time, he lost the blond spikes, heavy chains and Clark Kent glasses that made him look, in his own phrase, like a cartoon. Clips in Tadashi Nakamura's award-winning portrait "Jake Shimabukuro: Life on Four Strings," airing on PBS Friday, document the transformation.
Who were his role models? "I owe a lot to Bruce Lee," Mr. Shimabukuro says. "All he wanted was to express himself as honestly as he could. Jiu jitsu or karate or kung fu—to him, it was all human expression. If you look at music that way, it's not classical or jazz or blue grass or folk—it's the language of human emotions, expressing the real, everyday emotions we all feel. That's why we can connect."
Globally, Mr. Shimabukuro began connecting in a big way via one of YouTube's first viral videos, a rendition of George Harrison's rock elegy "While My Guitar Gently Weeps" shot in Manhattan's Central Park in 2006. Uploaded without his knowledge before he knew such a thing as YouTube existed, it has clocked nearly 12 million views, and still adds thousands daily.
At the drop of a jaunty straw fedora, Mr. Shimabukuro will sermonize that the world would be a better place if more people played the ukulele. Making music heals troubled spirits. The proud father of an eight-month-old son, he lets schoolchildren know that the ukulele has helped keep him drug-free for life.
Further illustration of Mr. Shimabukuro's credo comes in a segment of Mr. Nakamura's documentary from a senior shelter in the Japanese city of Sendai, devastated by the twin disasters of Fukushima. To see the glowing faces as an ebullient Mr. Shimabukuro teaches survivors well on in years to play "Twinkle, Twinkle, Little Star," who could guess what they have lost? Heading for the airport, the visitor is pensive. "I still believe that music is healing to some extent," he tells the camera. "But the people in Sendai still have no homes, and I'm on the next plane to Hawaii."
Life goes on, and the gigs keep coming. At the TED Conference for 2010, Mr. Shimabukuro's pyrotechnics rated a tweet from Bill Gates and handshakes from Al Gore and Matt Groening. Other career highlights include appearances at Google headquarters and in a Royal Variety Show where Mr. Shimabukuro shared the bill with Bette Midler, Lady Gaga and Miley Cyrus.
Afterward Queen Elizabeth came backstage. Though in the informal setting etiquette dictated no bows, Mr. Shimabukuro's head kept bobbing up and down involuntarily. "It must be the Japanese in me," he says. "Everything was such a blur."
What, if he remembers, did the queen say? "She told me, 'You play your instrument so beautifully,'" Mr. Shimabukuro reports, "with her accent, as only she can."
Her Majesty will get no backtalk from his colleagues in the business. A Kamaka belonging to Mr. Shimabukuro hangs in the Artist Gallery at the Musical Instrument Museum, in Phoenix, Ariz., keeping company with a piano of John Lennon's and a half-size fiddle from the young Joshua Bell. In the recording studio, Mr. Shimabukuro has teamed up not only with cellist Yo-Yo Ma, but also with Alan Parsons, the producer of the Beatles' "Abbey Road," Pink Floyd's "Dark Side of the Moon" and now Mr. Shimabukuro's "Grand Ukulele."
At the core of the new album are pieces conceived as live solos, free of electronic boosts and tweaks but selectively enhanced by a lush string section and percussion. "I think Alan's a genius," Mr. Shimabukuro says. "Once my ukulele arrangements were all set, we listened to playback together. Sometimes I'd say, 'Oh, it would be great to have the rhythm section here,' and Alan would answer, 'I don't think it needs it. It's already a foot tapper.' That was a very valuable lesson. By adding things you can actually be taking away.
"It's kind of mystical. I need to be the sponge, the grasshopper, to play with my heroes, my mentors, people who inspire me, just to keep learning as much as I can. You know how in karate, you start out as a white belt and work your way to becoming a black belt? But that's only half the journey. The second half is purifying your soul to get back to being a white belt, where you know nothing."