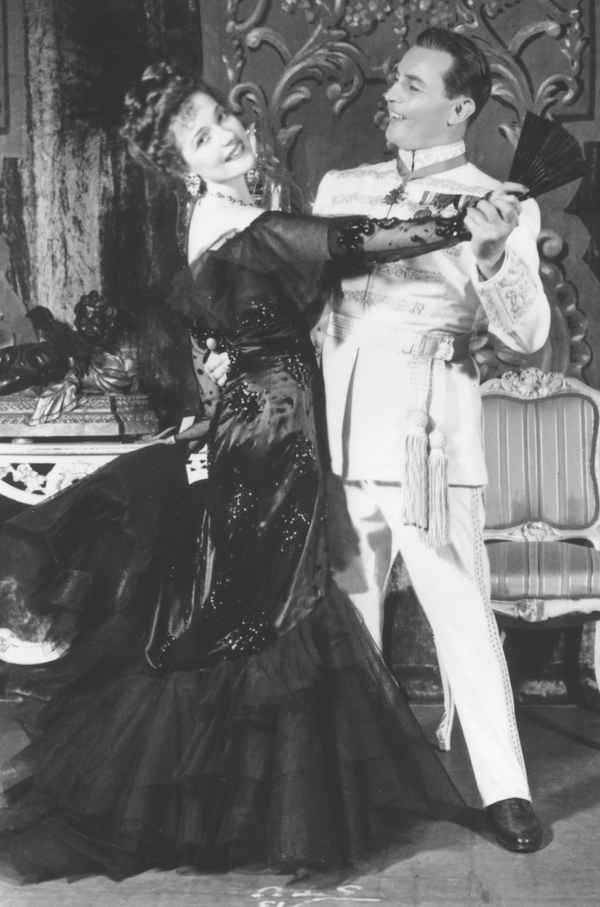 Empires rise, empires fall... The waltz goes on. Marta Eggerth and Jan Kiepura show their style The Merry Widow. Alas, no video! Photo courtesy Marjan Kiepura.
Hello Matthew,
Your piece on Balanchine reminded me of a story with Marta and Jan. Balanchine was the choreographer for my parents' Merry Widowproduction at the Majestic Theater in 1943. Marta always said their biggest competition was actually the ballet! And Balanchine was, course, fabulous!
Marta and Jan had this famous scene where they begin a slow waltz to the familiar melody which then evolves into a furious and passionate whirl. So one day during a rehearsal Marta decided to ask Balanchine for his opinion on how they danced the waltz.
Marta recalled saying to him: "Georgika, would you give us your opinion on how we dance the waltz?" Balanchine agreed and sat down on a chair patiently as the orchestra got the music ready.
So the familiar Merry Widow waltz begins, and Marta and Jan dance as they had naturally planned. After they finished, Balanchine remained quiet. Looked rather pensive actually. My parents anxious to what he would say. After a long silence he finally said: "Marta, it's perfect. Don't change a thing."
Best regards,
Marjan