---
A Kochlöffel—literally a kitchen spoon, metaphorically a busybody. Helen Kamioner couldn't wait to tell on herself when somebody called her that, to her face. She viewed the Human Comedy with gusto, and she played her part in it the same way, forever mixing things up, stirring the pot. Had musical comedy been her métier, Hello, Dolly! would have fit her like a pair of party gloves, likewise Sweeney Todd's pie-baking accomplice Mrs. Lovett ("You know me, bright ideas just pop into me head and I keep thinking ...") Her métier, in fact, was public relations, chiefly in the field of classical music.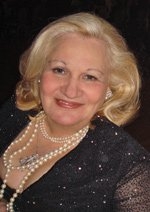 The irrepressible Helen Kamioner. A grande dame short of stature, yet larger than life.
As the Amelia Earhart of her boutique Creative Consultants for the Arts, she flew totally solo, often by the seat of her pants. Mapping out publicity campaigns was not her style. Her Holy Grail, always, was that elusive Sunday feature in the New York Times. But the breaks that were her bread-and-butter showed up much more often in less prestigious media or on the radio, whose gatekeepers she bombarded relentlessly with press releases, backup materials, and breathless phone calls, often—as well she knew—far past the point of diminishing returns. To mix a few more metaphors, the little black book was thick with the debris of burned bridges. Her dustups with friends could be nuclear, too, but there, she often mended the fences.
Even so, Helen built a distinguished roster. Among her headliners we find the genre-defying soprano Constance Hauman, the fiddler without borders Daniel Hope, and the high-strung dramatic tenor Neil Shicoff. The Beaux Arts Trio was in her portfolio, alongside the Bavarian State Opera, Leipzig Gewandhaus Orchestra, and Salzburg Marionettes, not to mention the Tannery Pond Concerts in bucolic upstate New York, a pet project of her friend the celebrity photographer Christian Steiner.
Her association with the Usedom Music Festival was a source of special pride. Recently inaugurated at a decommissioned factory, once top-secret, where Wernher von Braun developed rockets for Hitler, the festival had high ambitions, aiming to preserve remembrance of the Shoah even as it promoted healing and reconciliation. This, above all, was work Helen could put her heart into. Born in Munich to Holocaust survivors who started over, with the help of Jewish benevolent associations, farming eggs in New Jersey. As a girl, Helen helped out on the production line, holding eggs to a bright lamp to separate out the premium specimens—the ones with multiple yolks. (That must have been some lamp. Try this yourself some time.)
My understanding is that her parents had not a word to say about the camps. Paradoxically, their silence got Helen thinking that she had missed out on something unaccountably wonderful. At some level, this delusion persisted, even as she read up on the rise of the Third Reich, the horrors, and the aftermath. She reflexively championed Jewish music, musicians, and music historians. Over the last year or so, house-bound in Riverdale, Helen beat the drum for Fiddler on the Roof in Yiddish, for Tom Stoppard's Leopoldstadt, and a Carnegie Hall concert of music from the collection The Shoah Songbooks, at times unofficially and pro bono.
Though short of stature, Helen was in her way larger than life. Though her business seldom truly boomed, there were decided periods of bust. When she was flush, she entertained grande dame-style, preferably at the tables of Jean-Georges Vongerichten. On milestone birthdays, she would lay on lunches, holding court over a select motley few until well into the cocktail hour. And I have her to thank for the party for my novel When Stars Blow Out: A Fable of Fame In Our Time, which found only the most microscopic of niches. But through Helen's good offices with an art collector of her acquaintance, it got a sendoff worthy of Breakfast at Tiffany's.
Client comments on Helen's website (still active as I write) underscore her profound knowledge of music—a sine qua non in her chosen field, one might have thought, yet an asset by no means to be taken for granted. In fact, though she rarely mentioned this, Helen had trained as a soprano with mid-century legends like Jennie Tourel and Giorgio Tozzi. Once I asked her what music she had performed while still in school. "L'ho perduta, me meschina," she warbled by way of reply. That's Barbarina's nano-aria at the top of Mozart's Le Nozze di Figaro, written for a child who grew up to be, while still in her teens, the original Pamina of The Magic Flute.
When I left New York in 2011, Helen was already turning into a recluse, seldom stepping out from her home in Riverdale. She had a serious heart condition to contend with and then cancer, discovered in Stage 4. She Googled the stats, shared them with matter-of-fact fatalism. I gather that she beat the life-expectancy odds by a considerable margin and that for the most part, she was not in pain. Though she gave herself no false hope, she didn't brood. The Web continued to entertain her royally with new posts from Norman Lebrecht's Slipped Disc and other dish from the world of symphonic music and opera.
Her last email to me went out on April 27 with the subject line, "death by decadent chocolate cake." For the rest, it consisted of a snap of the cake, I imagine from her own oven. Gallows humor? It looked divine. I hope she cut herself a hefty slice.
I shot back a silly answer on May 5, when the message finally caught my attention. Next afternoon, word came from her sister-in-law in Riverdale with the news that Helen had died hours before, struck down suddenly by an apparent heart attack, and that she would be laid to rest beside her brother Henry the following day. So, she was spared the long goodbye.
A Kochlöffel, indeed. One of a kind.