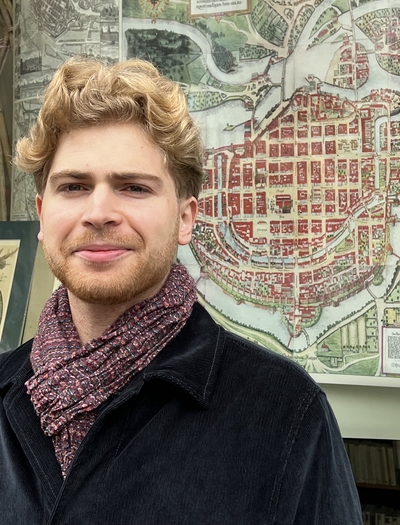 Snapshot of the maestro as a young man. Henry Kennedy in the historic Polish city of Wrocław, where his assignments this season include Don Giovanni, Carmen, Les Pêcheurs de Perles, and an expanded version of Il Trittico.
Once again, allow me to point you to a story of mine in Classical Voice North America. The subject is the young British conductor Henry Kennedy, whom I happened to meet at Riccardo Muti's rehearsals for Beethoven's Ninth Symphony with the Chicago Symphony in June. Turns out Henry was one of the chosen conductors for Muti's fiercely selective Italian Opera Academy the previous December. Since then, as his increasingly busy schedule allows, Henry continues to look in on Muti's work.
It occurred to me that over decades of writing about conductors, I'd never profiled one on the cusp of a career--and that the current cultural-political environment makes the transition especially challenging. As luck would have it, I was going to be between previous commitments in Europe on just the weekend that Henry would be leading his first Don Giovanni in Wrocław, the Polish city formerly known as Breslau. So, I thought: this was meant to happen.