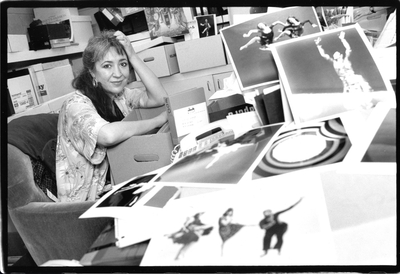 Surrounded by ephemera: Celia Ipiotis in the "Eye on Dance" Archive, an unparalleled repository of source materials from the Dance Boom, ca. 1980-2000.
Timing, people say, is everything. Dance, people say, is the most ephemeral of the arts. What a stroke of fortune, then, that Celia Ipiotis came along when she did with her long-running half-hour TV talk-show-with-benefits "Eye on Dance," catching America's legendary late-20
th
-century Dance Boom in full bloom.
Born in Athens, Celia came to America at the age of three, when her father, a polymer chemist, won a fellowship for advanced study in New York. Her father's subsequent employment at General Motors took the family to Dayton, Ohio.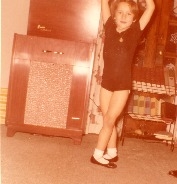 Show Daddy what you learned in class: Celia's fifth position at age six.
Celia's passion for dancing kindled early. By the age of five, she was taking lessons. At 11, she made her professional debut with Josephine Schwartz's Dayton Civic Ballet, landing a precocious solo in the company hit "Archaic Fragments." On tour to Cleveland with excerpts from
The Nutcracker
, she opened the show, first out of the wings with an air-borne split jeté. At 13, she was creating her own choreography. "I got released from school for rehearsals and performances," Celia remembers, "I got free toe shoes, and I got a paycheck." Such was the company's reputation within dance circles that Allen Hughes, of the New York
Times
, went out to file what turned out to be
a highly favorable report
.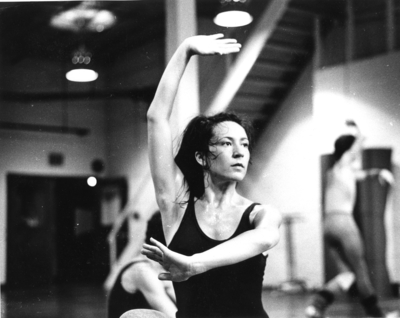 Leader of the pack: Celia performs with her all-volunteer Living Arts Summer Dance Company, a magnet for driven artists in the off-season.
After earning her BFA at Ohio State University, Celia founded the Living Arts Summer Dance Company, which she ran for three years. Based in Dayton, the all-volunteer ensemble attracted budding professionals with a compulsion to keep working—and showing their work to the public—in the off-season. No free toe shoes here, but then, none were needed. Celia had switched to bare feet. "I prefer modern dance because I love to feel the ground and grab it with my toes," she told the Dayton Daily News in 1976. Next stop: Manhattan and the New School for Social Research, Center for Understanding Media, her bridge to dance on video, an art form then in its infancy. While still in graduate school, Celia made the cover of
Videography
magazine, a human tornado the camera morphed to a blur not even her mother could have identified for sure.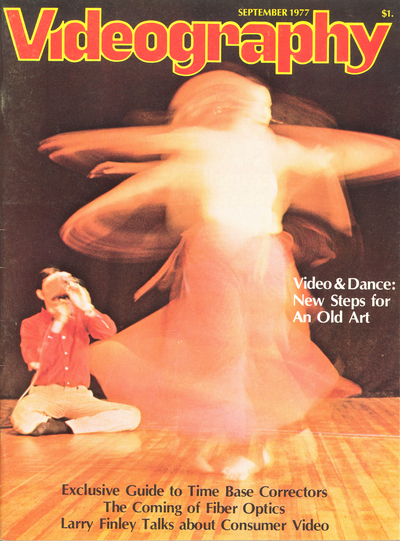 A human tornado: Celia's first magazine cover.
All the while, Celia's concept for "Eye on Dance" was taking shape, and it was revolutionary in its way. Like Garbo in Ernst Lubitsch's revolutionary comedy
Ninotchka
, the dancers would
talk
! An impossible dream, but it came true.
As moderator for "Eye on Dance," Celia displayed boundless curiosity, free of any agenda. The camera loved her bohemian fashion sense and hairstyles (ribbons, braids, bows!), but what drove the show was her sensibility, her intelligence, her respect for the intelligence of others. She was a demon researcher, always thoroughly prepared. She sat tall in her chair, poised and relaxed, with a Sphinx's smile, ever on the lookout for the telling detail. She made no show of imaginary intimacy, never invaded a guest's space.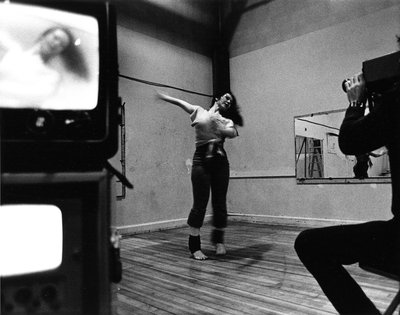 Co-creation: Celia develops a new dance with Jeff Bush, video artist, co-founder of "Eye on Dance," and life partner (with the marriage license to prove it).
Over the years, her roster ran from international principal artists to break dancers, choreographers on the cutting edge and choreographers who work like archaeologists, from hieroglyphic notation. Further afield, she introduced audience to musicians, physiotherapists, and intellectual-property lawyers. Topics that in our trigger-happy times would have to be approached with extreme caution if not ruled out as taboo include sexual politics, representation, appropriation, even minstrel shows. Conversation was punctuated with performance segments both thrilling and informative, many broadcast live from the studio.
"Eye on Dance" launched in 1981 and ran through 2004. For the double-length 200th episode in 1986, Celia and her founding co-creator and co-producer Jeff Bush prepared a double-length, 60-minute, highlights reel. On the eve of this year's 40th anniversary of the ongoing "Eye on Dance" enterprise, they have restored their long-unseen scrapbook of wonders. Partly the program serves as a fundraising vehicle. More importantly, it aims to connect new generations of dance professionals and audiences with the inquisitive, inclusive "Eye on Dance" mindset.
"Scholars and historians have been amazed to find that nearly half the archive covers, in considerable depth, artists of color and artists with AIDS whose work is documented nowhere else," Celia says. With every passing year, more of these voices are lost, lending ever greater importance to the archival record, which provides the wherewithal to enrich academic curricula and stimulate original new research. The invitational virtual premiere of the "Eye on Dance" special took place in March on the online platform The Dance Enthusiast; future showings are booking now at educational institutions and libraries.
Though Celia and Jeff produced their last television segment a short lifetime ago, their work continues on behalf of the endangered Eye on Dance Legacy Archive, a repository for some 2,400 analog videotapes, including outtakes, shows never broadcast, studio performances, and demonstrations); 7,500 black-and-white photos from guests' personal collections; 10,000 sheets of print materials, among them personal communications, research, production notes, press materials, and scripts; and 1,000 rare publications, programs, souvenir books, catalogues, and professional chronicles. Most of this material resides in secure, climate-controlled vaults of the international suggestively named information-storage company Iron Mountain (think Fort Knox).
To date, some 60% of the video library—much of it on unstable videotape—has been digitized, and sales of the materials to educational institutions and research libraries help fund the ongoing work. The Archive in its totality, however, has yet to find a permanent home. What's needed is a facility with the space, conservation technology, and the imaginative resources to excite future generations of historians, artists, and audiences.
According to an unverified report, an international tycoon stepped up not long ago, offering to snap up the archive on behalf of his dance-loving daughter for a cool seven figures. But the prospective buyers refused to commit to sharing the contents with the public in perpetuity, and the deal collapsed. Several institutions in the United States and abroad would provide a natural fit. Given Celia's Buckeye roots, her alma mater Ohio State University has a sentimental edge, in contention with the Olympian likes of Library of Congress, the New York Library of the Performing Arts, the Harvard Theatre Collection, the Juilliard Library, the British Museum, and the Bibliothèque Nationale de France. But placement at any of these would require the largesse of a dance lover with deep pockets—or of a determined consortium.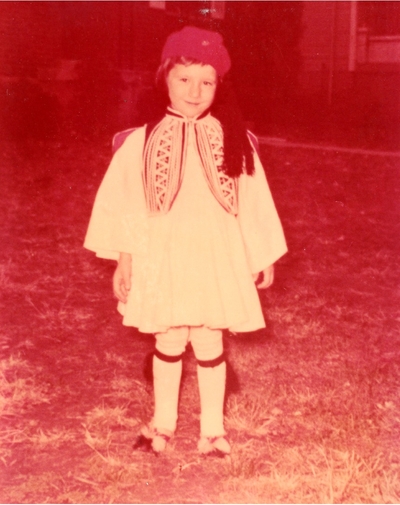 Long ago and far away: Celia in Athens, suited up in the renowned Tsolias uniform of the Presidential Guard on permanent watch at the Old Royal Palace in Syntagma Square.
What's at stake? Documentation unique in its scope and quality of a high point in dance history. Anna Kisselgoff, chief dance critic of The New York
Times
from 1977 to 2005, sketched out the parameters in a Critic's Notebook essay the week before departure, virtually simultaneous with Celia's disappearance from the airwaves. The headline read
"Thoughts on the Once and Future Dance Boom."
"[The year] 1962 was really when it all began," Kisselgoff wrote,
... ushering in a true golden age: Nureyev [who had defected in Paris the previous year, generating headlines around the world], Balanchine at his peak, Cunningham as the pope of the avant-garde, innovative pure-dance choreographers. That was the heyday, too, of the experimental Judson Dance Theater [...] and like-minded rebels whose use of nondancers and nondancer movement questioned the nature of dance itself.
Of course, nothing lasts forever. Towards the end of her piece, Kisselgoff had this to say:
[E]veryone knows that the dance boom has ended. It fell victim to drastic cuts in government and private financing that curtailed touring and put some companies out of business. The creative impetus of that exciting time, especially in the 60's and 70's, also petered out.
But the torches were blazing bright when Celia burst on the scene. And as culturally attuned New Yorkers in the 1980's and 1990's knew full well, they continued to do so virtually to the close of her quarter-century adventure. With the appointment of Arlene Croce as dance critic of The New Yorker in the early 1970's, a whole burgeoning cadre of similarly minded scribes, sharp-eyed and ambitious, invaded the arts-and-entertainment pages to an astonishing degree, colonizing column inches to rival the front-line theater and movie critics.
Critical evaluation has its uses, in the moment and after the fact, but "Eye on Dance" was trading in quite different coin. Airing on the local PBS stations WNYC and WNYE in tristate Metropolitan New York, the show excited mavens—even as it demystified an art many outsiders were apt to shun as esoteric and arcane. Rather than hand the megaphone to the chattering class, it gave a voice to people who lived the life, opening doors and opening eyes. To avoid scheduling conflicts with live performances, Celia's show aired on Sunday or Monday evenings, when dance stages were dark. Lincoln Kirstein, co-founder with George Balanchine of New York City Ballet, watched religiously, never failing to spring his notes on Celia at intermission on the promenade of New York State Theater, in his day the Times Square of the dance world.
"Naturally, we would wonder every year whether our contract would be renewed," Celia said recently. "But ours was one of the most popular programs on our two stations. The executives were floored." Remarkably, "Eye on Dance"—alone in the lineup of the stations' original niche programming—cleared the one-percent market-share threshold to receive a Nielsen rating.
"The truth is that we weren't so esoteric," Celia continues. "People tuned in with their families because the show was intriguing. One week we'd have ballet, then a physical therapist, a lawyer, a sports figure, a tap dancer... And if you can believe it, over 50% of our viewers were men. I'd get letters from men who wrote, 'I never understood or knew about dance.' In public, they might have been self-conscious about expressing an interest in dance, but in the privacy of their homes they would tune in and get fascinated about the ways dancers think and navigate their fragile careers. They became enamored and start showing up as dance regulars."
At this remove, the titans of the late-20th-century dance boom stand out in ever bolder relief, their stature attested in major biographies and/or documentaries. While many of them visited "Eye on Dance," some, for various reasons, did not. George Balanchine was in failing health by the time Celia got cooking, so she recruited dancers of his from the New York City Ballet as surrogates. Knowing that Jerome Robbins turned everyone down, she never asked him. Though Martha Graham and Antony Tudor both agreed to appear, they never managed to ink dates. But individual absences do not detract from Celia's granular panorama of the entire ecosystem. The body of work she created is irreplaceable.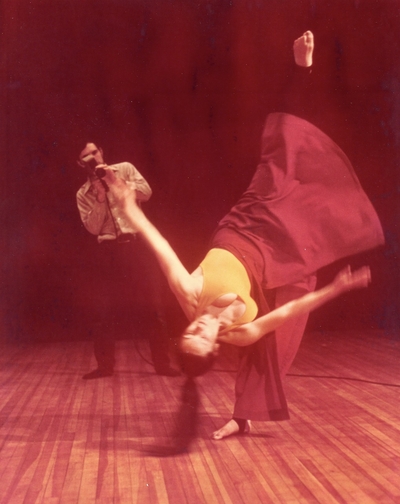 "O body swayed to music, O brightening glance, How can we know the dancer from the dance?" Jeff shoots, Celia pushes her limits.
But she does not live in the past. "Our hope today," Celia says, "is that we can trigger conversation on issues we were focusing on back then. Because they're still totally contemporary today! Black Lives Matter, equity, and women, it's all there. Think of the program as a springboard for engaged and thoughtful conversation about dance of all kinds. We never privileged European concert dance as the be-all and end-all. We did street dance, social dance, vernacular dance. We looked at artists' First Amendment rights around gender politics and things the religious right was branding as obscene. There was never a topic I wouldn't face head on. That's why I loved 'Eye on Dance.'"
That's why her work still matters and will continue to do so.