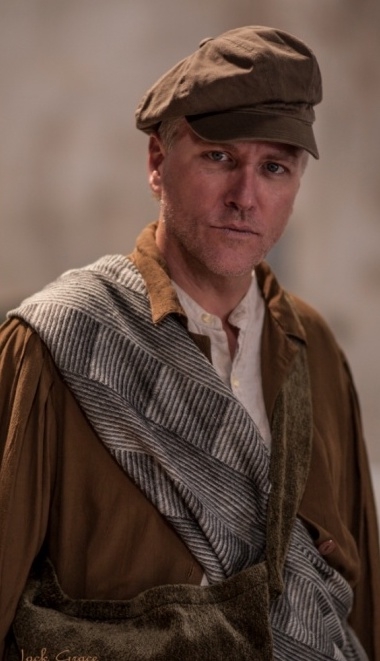 Prisoner 24601 returns: celebrating our 20th show with James Price, our very first studio guest.
The tenor James Price, world-famous on Maui as the very fine Jean Valjean of
the "better than Broadway" MAPA Les Miz of 2013
, joined Paul Janes-Brown and me in the studio for a smorgasbord of new vocal releases. (Scare quotes? You decide. The phrase continues to be tossed about in all seriousness.) For the record, this was a milestone program: our 20
th
.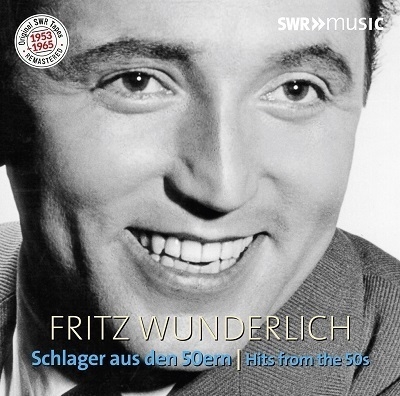 The German phenomenon Fritz Wunderlich, who in 1966 fell down a staircase in a hunting lodge and died at age 35, called us to immediate attention with "Granada," one of many Latin-themed songs of travel from the new compilation Hits from the 50s (SWR>>Music, SWR19029CD, 2CDs). While it lasted, the opening flourish—unaccompanied, fortissimo, and way up there—struck me as the most astonishing gush of combined adrenaline and testosterone I had ever witnessed. At four minutes plus, the arrangement does go on a bit, but the vocalism remains tremendous. A superstar in opera, operetta, concert, and pop at the time of his death, Wunderlich remains, as his name hints, a wonder. Technical observations but no complaints from Jean Valjean. We were less happy, though, with the lyrical (read boring) "Gondel, gleite du hinaus," evoking a romantic Venetian moment on a gondola. The album runs to nearly 40 tracks. My guess is that the material would get rather old, but you never know. Still, if Wunderlich's is the voice you want to hear, I'd point you to his Schubert, his Mozart, his Lortzing, his Beethoven.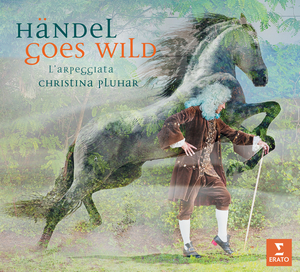 Händel Goes Wild: Improvisations on G. F. Händel (Erato 0190295811693), from the Austrian period ensemble L'Arpeggiata, led by its founder Christina Pluhar, embroiders top-40 items from the composer's vast repertoire much as jazz combos jazz up the American Songbook. Our sample, "Ombra ma fu" (known to churchgoers as "Handel's Largo"), was heard first at its full brief length as a scratchy, soggy instrumental, then in a highly but not crazily embellished take by the listenable Rumanian countertenor Valer Sabadus). No thanks.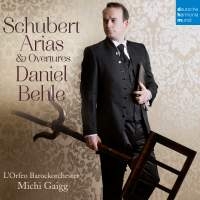 We next turned to Schubert Arias & Overtures, from the German tenor Daniel Behle, in partnership another Austrian conductor, Michi Gaigg, leading her own period ensemble, L'Orfeo Barockorchester (Deutsche Harmonia Mundi 88985407212). Neither Schubert's contemporaries nor his legions of posthumous admirers have ever had much time for his operatic efforts. As a dramatist in song, the composer has no betters and few peers, but his discernment in libretti left much to be desired, as did his sense of theatrical scale and timing. Nevertheless, individual numbers show great variety and haunting beauty. Kudos to Behle for his enterprising program. We gave two arias a spin: "Es erhebt sich eine Stimme" (from Claudine von Villa Bella, to an unknown text by Goethe); and "Was quälst du mich, o Missgeschick!" (from Fierrabras, which has received scattered revivals over the last quarter century). Gorgeous pieces, beautifully presented by all concerned, with sensitivity, understanding, and fine musicianship. Agreement in the studio that Behle's instrument lacks intrinsic bloom or much range of colors. But voice is not everything. I, for one, will be exploring this program further.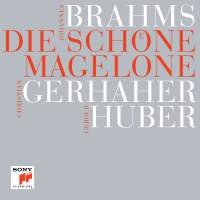 And finally, we sampled Die schöne Magelone, in a new rendition by the German star baritone Christian Gerhaher, accompanied on the piano by Gerold Huber (Sony Classical 88985413122). Unlike the matchless Schöne Müllerin or Winterreise of Schubert, this song cycle, by Brahms, tells no coherent story: the lyrics are interludes in a long prose narrative for which listeners in the concert hall or at home have shown little patience. The dominant mode of the music is chivalric, with suggestions of drums, trumpets, derring-do, and romance. In the two energetic, macho opening songs and more especially in the meditative fourth, the velvety quality of Gerhaher's voice along with his authority and nuance as a storyteller had us in the palm of his hand. Three thumbs up, as our host, Paul, declared a "winner."