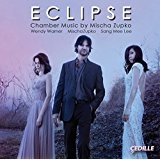 The agenda of "Catch of the Day" is to share first impressions, whether what's new to us is the repertoire, the recording artists, the performance, in a pinch even a pressing. This time, we went especially far afield. From the album Eclipse, featuring chamber music by Mischa Zupko (on the Cedille label), we chose Waves, one of four movements from the duo Shades of Grey, performed by Sang Mee Lee, violin, with the composer at the piano. Grey is right, which needn't be all bad. Still, the tracery of the violin part and the hovering, pensive meditation for the keyboard gathered little momentum, and to my ear generated none of the overlapping, endlessly fascinating patterns characteristic of waves on water. Paul had more patience for this than I did. At a guess the score is more rewarding to study than to listen to.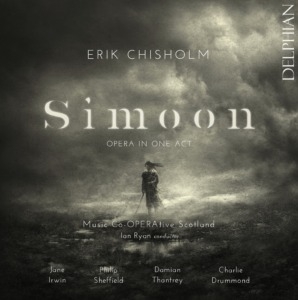 On to the 45-minute opera Simoon (on the Delphian label). The composer is Erik Chisholm (1904-65), a Scot I repeatedly misidentified as a Dane. Apologies. The Simoon, it seems, is a dry, dusty wind that barrels through from the Sahara across the Arabian Peninsula and on to Syria. The title evidently points to the setting and atmosphere of the action, taken from a playlet by Strindberg, gloomiest of dramatists. We excerpted the final scene, a scant four minutes, yet enough to convey a somber, barbaric splendor, punctuated by bells that strike like blows of destiny.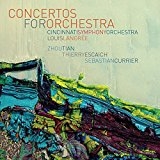 Concertos for Orchestra (on Fanfare Cincinnati) includes three multi-section symphonic frescoes, from each of which we plucked a movement to create our own little ad hoc concerto for orchestra, as follows:
I. Seeker's Scherzo—brisk and balletic—from Zhou Tian's Concerto for Orchestra;
II. Andante un poco rubato—multilayered, grave, and intensely dramatic—from Thierry Eschaich's Psalmos, sinfonia concertante pour orchestra;
III. Fifteen Variations of the Same Phrase—kaleidoscopic, colorful, brilliantly organized—from Sebastian Currier's FLEX.
Under Louis Langrée, the virtuosi of the Cincinnati Symphony Orchestra surmount the challenges the composers throw their way with infectious enthusiasm.