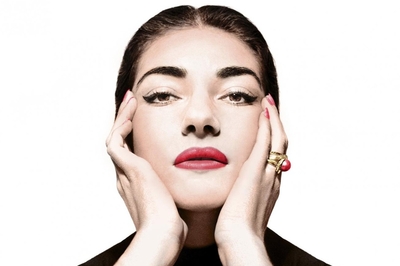 The voice, the look, the gossip, the headlines: The Greek-American soprano Maria Callas (1923-1977), known as La Divina, gave new meaning to the cliché "a legend in her own time." And a legend she remains, hands down the most influential diva in opera since Thomas Edison patented the phonograph. From generation to generation, her recordings have perpetuated her mystique. Ranging from jewels of bel canto to indispensable Verdi and Puccini, with Bizet's smoldering "Carmen" in the mix just to shake it up, the Callas discography, originally on the EMI label, has proved an enduring gold mine.
A creature of the analog era, Callas recorded nearly exclusively on tape. First released on vinyl, her albums have migrated from the master tapes in the vault to compact disc on three separate occasions: first in the 1980s, for the benefit of collectors upgrading to digital; then in 1997, to honor the 20th anniversary of Callas's death; and this fall, just in time for the holiday season—now on Warner Classics—as "Callas Remastered," a red treasure chest containing 26 full-length operas and 13 recitals on 69 CDs, each album available separately, with a one-third-size reproduction of the original cover art.
When vintage recordings resurface in a new format, a skeptic may well wonder what else is new. Like aging film stock, the magnetic audiotapes of yesteryear disintegrate even while lying undisturbed in storage. On the other hand, technology keeps improving; as in forensics, more sophisticated tools may extract superior data from inferior physical evidence. And then, conservation philosophy keeps evolving; the best practices of today are the discredited heresies of tomorrow.
The holy grail of the sound engineers for "Callas Remastered" was what they call high definition, a buzzword promising state-of-the-art quality, though no industrywide standard exists. In a companion coffee-table book, the sound engineer Allan Ramsay explains the idea this way: "In high definition, you'll be able to experience sounds which have only been heard up till now by people who were either present at Callas's recording sessions, or who had access to the unique master tape. And digital editing software has become so sophisticated that we can correct problems which were insoluble even a few years ago. The listener will experience something as close as possible to the actual recording sessions." The sort of problems Mr. Ramsay is talking about would include the rumble of a passing bus, duly noted in the daily log, or worse, the "bubbling" of the voice in an overtaxed historic microphone.
A revealing test of high definition against ancient sense memory would be the "Liebestod" from Wagner's "Tristan und Isolde," recorded in Italian on a wax cylinder in 1949. While Wagner was soon to disappear from the Callas repertoire, this sample suggests that she had a remarkable affinity for his music. A reviewer for Gramophone magazine waxed poetic over "the eloquence of phrase and the technical control put at the service of a discerning heart." But when a mentor sat me down with an LP transfer in the 1970s, all I could hear was snap, crackle and pop. On "Callas Remastered," I would rate the sound as listenable, the performance as luminous. Unlike Isolde, the heroine of Bellini's "Norma" was to become a signature role for Callas; in a rendition of "Casta diva" dating to the same sessions, her voice comes across as rich and full at dynamics from low to full throttle. The sound quality of the latest CD transfers of this early material bodes well for the transfers of what came later.
Ponchielli's "La Gioconda," for instance, as recorded in 1952. Take the confrontation in Act 2 between Laura, a nobleman's wife, and the street singer Gioconda over a sea captain who is not what he seems. "I love him like the light of creation," sings Laura (Fedora Barbieri), in jagged, deliberate phrases, declaring war. Gioconda (Callas) has a ready answer: "I love him as the lion loves blood." This is spine-tingling stuff, and on "Callas Remastered," the two she-gladiators all but leap from the loudspeakers. Whatever the engineers have in mind when they say high definition, this passage fills the bill in my book. So, in its contrasting way, does Leonora's magnificent first scene in Verdi's "Il Trovatore." Moving from moonlit reverie to skipping ecstasy, Callas hypnotizes, her voice never edgy or squally but in consistently sharp focus and close to the ear.
The "Callas Remastered" lineup reproduces Callas's complete studio recordings, omitting nothing, while live material has been rigorously excluded. As it turns out, the conceptual logic gives the package a strange inconsistency—and a whiff of the variorum. A posthumous mashup of tracks the fiercely self-critical artist never approved, released in 1993 as "The Callas Rarities (1953-1969)," makes the cut, as do competing versions of several operas she recorded in the studio a second time. But iconic roles she performed only in the theater go unrepresented.
No doubt copyright issues are in play. But in 1997, EMI managed to admit to the canon, in presentable sound, live accounts of many titles that seem prime candidates for a high-definition makeover: Donizetti's "Anna Bolena," for instance, with Callas's searing portrait of Henry VIII's second queen en route to her beheading; Verdi's mesmerizing "Macbeth," after Shakespeare; Spontini's revolutionary "La Vestale."
All these and many more—spine-tingling accounts of Verdi's "Nabucco" from Naples and his "Vespri Siciliani" from Florence; likewise from Florence, Rossini's "Armida," a blaze of poetry and pyrotechnics; a uniquely Italianate account of Wagner's "Parsifal," broadcast from Rome—have long been available on private (read "pirate") labels in sound that ranges from passable to quite impossible, depending on the condition of the original audio sources, the condition of any intermediary sources used, and the technical skills of the manufacturer.
Some votaries of La Divina cherish as a holy relic every inch of magnetic tape that bears a trace of her voice. With great regret, the more epicurean likes of me must write off quite a few Callas shrouds of Turin as lost causes, ravaged by time, beyond recall, for the ears of researchers or historians only. The Callas retrospective to end all Callas retrospectives would gather together, regardless of provenance, all the best of the soprano's best for which high-definition-worthy source material can be found. In the meantime, "Callas Remastered" has raised the bar several notches.